Today, the favorite 1Blacklock *96* 10.25 Inch Skillet has been reimagined with the perfect fusion of tradition and innovation. Use as your everyday pan for all your favorite, go-to recipes.
 Triple seasoned for a natural nonstick finish
Cast in a thin, lightweight design
Extended, raised handle stays cooler longer
Generous pour spouts for pan sauces and gravies
Sloped, spatula-friendly sidewalls
Elevated assist handle for added comfort and great control
Made in South Pittsburg, Tenn., USA
Dimensions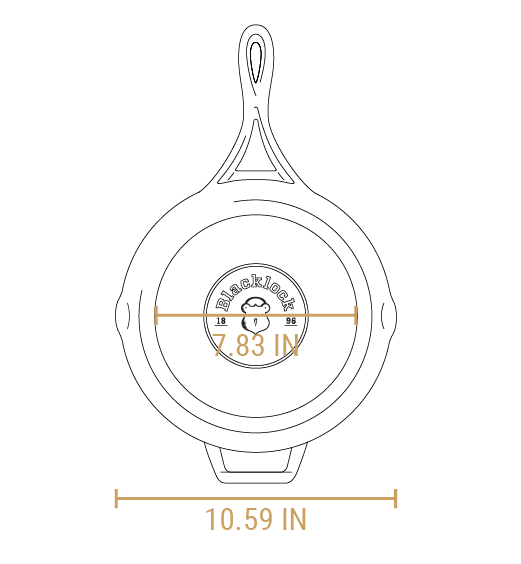 S
Length 17.38 IN Height2.63 IN  Weight 3.86 LBS  Width10.59 IN Volume 0.31 QT
Great For dinner for two  Cooking Surface Area58.46 SQ. IN.
Experience the ultimate culinary journey.

Lodge adapted and thrived, and this Blacklock skillet adapts to any stovetop, oven, grill, or open flame. Sear pork tenderloin, roast veggies, and bake a decadent blueberry pie with this skillet. 

Thanks to a special blend of iron, Lodge is once again reinventing cast iron cookware with Blacklock. 

          Triple seasoned

          — Three layers of seasoning for a natural, nonstick finish

          — Exceptional flavor and simplified cleanup

Lightweight cast iron

— Proprietary recipe of iron, cast thin
— Reinvented to lift, carry, and handle with ease

Durable craftsmanship

— Quality cookware that's trusted to last for generations
— Extended, raised handles add comfort and stay cooler longer

Unparalleled versatility

— Resilient and adaptive cookware
— Use on any stovetop, oven, grill, or open flame